Pain Care and Rehabilitation in Wayne PA

Chiropractic Spine Center is a leader in total body rehabilitation and fitness to relieve your pain and get you back to living a life of healthy activity.
Our chiropractic doctors concentrate on the phases of pain relief care, corrective/restorative care and wellness care in their treatment plans. Physiotherapy is incorporated to target preventative methods of care when dealing with back pain, neck pain, and other painful symptoms and injuries.
Each of our pain-care treatments are designed to jump-start the healing process and enable our spine care providers to monitor the success of increased healing and pain relief our patients experience along the way.
Our goal is to eliminate your pain, increase your physical fitness, strength and mobility and get you back to enjoying life. We want to help you return to all you normal activities and prevent future injuries from occurring.
We treat people with pain resulting from car accidents, playing sports, work injuries, or other musculosketetal injuries. Dr. Glazer gives one-on-one, hands-on, efficient and quality care.
Pain Relief Services Offered by Our Clinic
Each of our treatment plans is designed specifically for each patient to determine which combination of therapies will prove to be most beneficial. Also, by monitoring the progress of each patient, we can assess and recommend additional or alternative techniques as injuries begin to heal and health begins to improve. Through spinal correction, chiropractic adjustment, and correction of skeletal misalignment we have helped many of our patients discover a life without chronic pain. Common chiropractic techniques used include manual adjustment, mechanical adjustment, x-ray imaging to determine pain problems, and more. We also treat patients who are dealing with an auto accident injury, such as back pain, neck pain, or whiplash. After an auto accident, adrenaline and shock can often cause patients not to feel pain immediately. However, many people start to notice feeling the effects of minor auto accident injuries, such as neck or back pain, the next day. Our techniques can help alleviate this pain more effectively and efficiently.
---
Spinal Decompression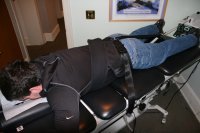 Relieves pressure from discs, joints and muscles, and treats the following conditions:
Degenerative disc disease
Herniated/slipped and bulging discs
Post surgical relapse or failure
Spinal stenosis
Sciatica
---
Exercise Therapy
Medically supervised stretching and strengthening is used to rehabilitate injured or weakened muscles that support the spine and extremities.
The increase in range of motion and retraining of damaged muscles speeds recovery and helps prevent relapse of conditions.
---
Muscle Stimulation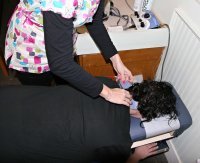 Used to reduce pain, decrease swelling, strengthen muscles and speed healing by applying electric current to the site of soft-tissue injury.
---
Traction
Traction involves applying a passive pull to the spine and extremities for the purpose of stretching tight joints, increasing mobility, relaxing muscles, and relieving pain.
---
Ultrasound
A form of deep heat from high frequency sound waves which increases blood flow, relaxes muscles, and speeds the healing process. It is commonly used for many sports injuries, especially on the back, shoulders, elbows, knees and ankles
---
Chiropractic Adjustment
Detects and removes nerve interferences. Corrects minor misalignments or malfunctions of the spine or extremities that put pressure on the nerves and cause pain.
---
Conditions We Treat
Auto/work/sports injuries and other musculoskeletal pain
Back pain, Neck pain
Shoulder, elbow, wrist, hand pain
Hip, Knee, ankle, foot pain
Headaches resulting from neck injury
Arthritis
Limited flexibility
Poor posture
Fibromyalgia
TMJ disorders
Pain, numbness and tingling due to sciatica and other pinched nerves
Carpal tunnel
OFFICE HOURS
---
Monday
8:00am - 7:00pm

---
Tuesday
8:00am - 7:00pm

---
Wednesday
8:00am - 7:00pm

---
Thursday
8:00am - 7:00pm

---
Friday
8:00am - 7:00pm
---
Saturday
8:00am - 1:00pm